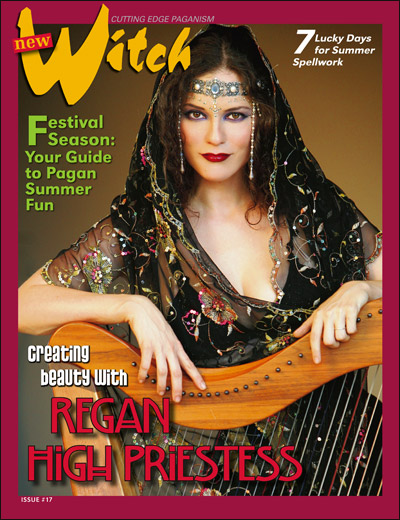 New Witch Magazine did a gorgeous interview with High Priestess Regan.
newWitch #17 – Power & Passion
Our first color issue! Michael Night Sky's interview with singer, harpist, composer and producer Regan High Priestess starts off this issue, while Lupa and Taylor Ellwood add (more than) a bit of spice with their article on "Esoteric Ecstacy: An Introduction to Kink Magic." Back down to earth, we have two articles for those with wanderlust this summer season; Natalie Zaman's profile of the magical home of Arthurian Legend "Wandering Witch Goes to Glastonbury" and a comprehensive guide to Pagan festival-going "Festival Season" containing both a spotlight on Circle Sanctuary's Pagan Spirit Gathering and a list of 26 Pagan friendly events for Summer and Early Fall. Plus a super-powers meets Paganism excerpt from Christopher Knowles' book "Our Gods Wear Spandex", Phil Brucato's continued column on RPGs and Paganism; articles on erotic piercings, and, of course, Good Witch/Bad Witch and Astrospell's guide to best spellcasting dates for the summer.
From Aural Innovations #20 (July 2002)
My introduction to Regan Remy's music was the 4-song demo disc I reviewed in AI #19. Based in Los Angeles, Regan is a musician and singer who plays a haunting and ultra-spacey brand of Gothic electronica. Visit her web site and the nude body of Regan sensually laid out across the main page may cause you to at first think you've stumbled on to on an erotic web site. But if the High Priestess' persona seems to transcend purely aural pleasures, the music itself covers some interesting and varied ground. Moving across a number of genres and scenes, Regan's music draws on Goth, Techno, Drum 'n Bass, Dub, Progressive, and Ambient influences to create music that is based in Dance and Goth, but includes enough variety across Sellisternia's 12 tracks that it refuses to get stuck in any one label or groove.
"Hallowed Ground" opens the set, being a symphonic Gothic intro piece accompanied by pounding tribal percussion and Regan's church choir chanting. Not unlike some of the keyboard heavy passages heard in 80's Hawkwind. "Opium" retains the Goth feel, though pulsating electro beats soon burst into a full blown dance floor groove. But this isn't simple Rave fodder as there's also a Middle Eastern influenced melody and lots of quieter spacey, meditative transitional points. And the flute and harp make for a techno inspired heavenly sound that I really dig. "I Am Your Garden" is another highlight track with Middle Eastern percussion and strings, along with a mind bending wave of space electronics and pounding dance rhythms. And "Interrogated" is like a spacey Rave-Rap peppered with UFO synths, freaky effects, and pummeling dance floor space mania.
Several other tracks draw heavily on Dub and Drum 'n Bass influences. And "Undine" and "Oblivion, 1st (and 2nd) Movement" bring to mind early Tangerine Dream with dance beats. Finally, "Angel Eyes" and "Temptress" stand out from the rest as being a bit different. "Angel Eyes" reminds me of Shirley Bassey singing an old James Bond theme song run through an electro freak grinder. Interesting. "Temptress" is similar, sounding like an old lounge jazz tune given similar treatment. (Though I have to say I've never heard lyrics like these from a jazz singer. Look out guys.)
In summary, there's lots happening here and it's clear that at least some folks in the electro dance and Goth scenes are making creative and complex music that is heavy on the fun freaky space and ambient elements. Have you ever noticed how some of the best of the 1980's British psychedelic festie bands turned to techno/dance music? (e.g., Nukli and Eat Static from the Ozrics). They music have seen the possibilities. Interesting stuff indeed.
http://www.aural-innovations.com/issues/issue20/regan02.html